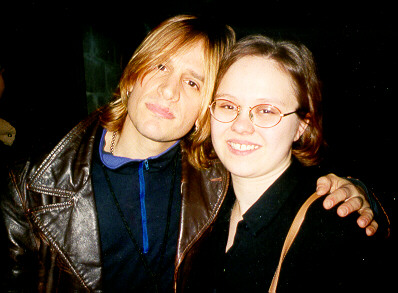 This is me with my teenage idol Steve West of Danger Danger. A dream come true (can't you see it in my eyes?). This was in December 1997.


When I surf the Net, I find it fascinating to read about people I don't know. So here is your chance to learn something about me.

My name is Tanja Karlsson (b. Sorsa) aka Tanya aka Tenze. Many people know me as Tanya (with Y), even my mother used to call me that. In 1990 I received a letter from Guns n' Roses where they had misspelt my name, I thought it was cool and started using it. I got the nickname "Tenze" (pronounced Ten-tse) on the 6th grade when I worshipped a Finnish teenage idol called Tenze of JamJam (does anyone remember them?). Some other nicknames I've gained are Tanelikaneli (thanks dad!), Pikku T (hehe), Tanjuska, Duckie (as "sorsa" means a duck in Finnish). Enough about names.

I was born on October 27, 1975 in Oulu, Finland. That makes me a Scorpio, but I don't know if my personality fits the star sign. From what I've read, scorpios are impulsive & ambitious and I am neither. I'm just a cheerful girl who worries too much and usually gets along with people. I guess my friends know me better than I do myself, so friends - tell me what I'm like by writing to my guestbook! :-)

I live in Turku with my husband Michael, our dear daughter Ellen, who was born on the 5th of February 2006, and our lovely son Axel, who was born on the 26th of November 2008. Michael is a journalist and plays his Ibanez JPM100P2. He and I actually got to know each other via e-mail back in 1996 (we have a mutual friend and had met once before). Modern day romance. My parents live in Jyväskylä (central Finland) and my kid brother Antti lives and works in Kemi.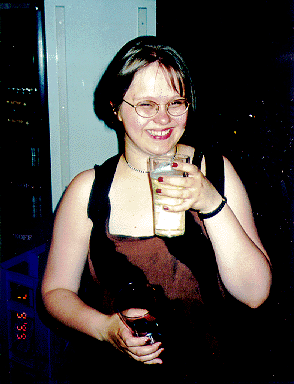 This is me at the "Tuska" metal festival in 1999. No, I'm not drunk.

I've lived all over Finland (almost) since I was born back in 1975. From Oulu we moved to Kitee (the home of Nightwish) for 5 years in the 80s (grades 2-5). Then came Laukaa (grades 6-9 and 6th form college) and after that I studied in Äänekoski for 3 years, in the Äänekoski Business College. I graduated from the foreign trade section in 1996, and after that I took an Internet course in the same school. That's where I learnt HTML and made my first homepages. That was a very cool time, being online 12 hours a day. Irccing (irc.dreamt.org port 2112 #ytsejam), e-mailing, surviving on PepsiMax.

I moved to Helsinki in May 1997 and worked as a phone operator at the Finnish National Gallery. Late in 2002 I moved to Turku, because I was fed up with Helsinki and Michael got a steady job there. I didn't take me long to get a decent job myself. I work for a large international company doing lots of different stuff. Maybe not my dream job this either, but it pays the rent and the few CDs that I buy. I've always wanted to work in a movie theater or a CD store, so maybe I'll try that one day. I told you I wasn't too ambitious!

I love music and go to concerts frequently. Unfortunately I have no musical talent at all, altho' Michael says that I'm not totally hopeless. :-) I listen to everything that sounds good to me, mainly to metal and hard rock, but I also like some pop and even some jazz. My favourite band ever is Dream Theater - a progressive metal band. I've seen them live five times, and also met them many times. Nice bunch of guys! See my music page for other favourites. My favourite rock clubs are Tavastia and Nosturi. At Tavastia I've seen some great gigs like Dream Theater & Fates Warning, Fish and Dee Snider, and at Nosturi Mustasch, Iced Earth and Opeth.

I also love sports and movies. I used to do sports when I was younger (baseball, football, volleyball) but now I just enjoy watching it. Icehockey and Formula One are my favourites, but almost anything goes. And movies, I watch a lot of them - at the cinema, on DVD or TV. A dark movie theater is the greatest escape from the real world, perfect joy. I love both huge theaters and the small cozy ones (with more underground films). Books, don't forget the books! I've always read a lot, except during fall 96 - summer 97 when I was totally hooked on the Net and spent all of my time online. Some of my favourite authors are Anne Rice, Amy Tan, Mario Puzo, Vigdis Grimsdottir, J.K. Rowling, and Liza Marklund.

Slams. I swap slams. Snail mail, no email slams! When I have time I'll tell you more about it! :-)

That's all folks! Check out:

List of my fave things


---
Back to Tenze's Joint